Dustin K. is a corn and soybean farmer and FarmLogs user from Amery Wisconsin. He operates 900 acres in Polk County Wisconsin and Minnesota, and currently splits the acres into 60% corn and 40% soybeans. Here's what he had to say about using Automatic Activity Recording on his farm: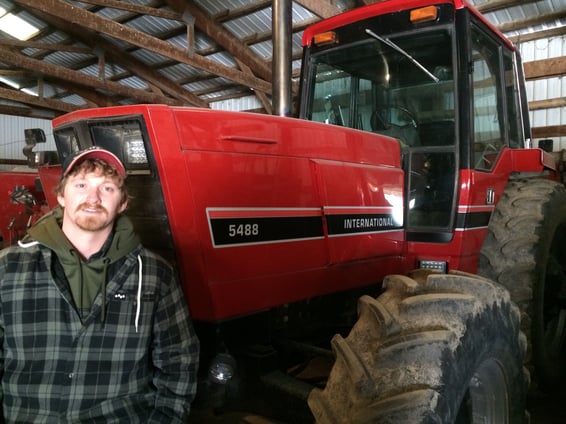 Dustin K. on his farm in Wisconsin
What is your process for record keeping?
Before FarmLogs, all of our record keeping was done on paper or by using a calendar. In some cases, plant dates were verified with photos taken throughout the season. We were primarily keeping track of plant dates and harvest dates. For management purposes I also like to know how long each field takes, the loads of grain taken off each field, and inventory.
Why did you decide to start keeping records digitally?
I wanted to try out FarmLogs Automatic Activity Recording (AAR) and also wanted to know how long each activity actually takes compared to my estimates.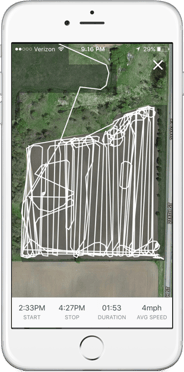 AAR field path recording
How do you use FarmLogs AAR on your operation?
The first year, it was pretty neat to get a feel for it and pretty simple to use. On average we have three people involved in field work and the whole team uses AAR. We have an iPad mounted in every unit and the AAR begins logging as soon as the tractor or combine enters a field. We use AAR for field work, tillage, spreading, planting, and harvesting.
One of the biggest advantages was when I went into the FSA to report plant dates. I simply showed them my FarmLogs account and went field-to-field until I finished reporting.
It was very helpful, especially at the rate I'm expanding—it's hectic enough with field work, let alone remembering what day you planted. I'm not a fan of bookwork and this helps reduce that workload. It's been nice to integrate new technology into older equipment.