Today's challenging farm economy means that high yields are no longer enough to be profitable. You also need to be the financial manager for your farm, which means keeping detailed records of production history, inputs, and notes about the decisions you're making throughout the season. But with so many records to keep, how do you know if you're tracking the right information?
Record keeping for better farm management
In an article from Seedstock, Chris Blanchard, a farmer of over 15 years and co-author of Fearless Farm Finances, emphasizes the importance of keeping records to make better future management decisions:
"Farmers need to keep good records so that they can predict the future by truly understanding past results. Our memories tend totrick us into thinking that things were better or worse, earlier or later, depending on the lens we view events through; good record-keeping helps to smooth out the variations that our memory imposes, facilitating rational decision-making."
Keeping detailed records is also beneficial to your budget and planning for the long-term. Deborah Cavanaugh-Grant from the University of Illinois Extension office says that keeping good financial records is as important as deciding when to plant or how much seed to apply. She says:
"Without adequate records you simply cannot assess your profitability, which is critical to the long term sustainability of any farm."
What records to keep and why
You're already keeping records on the farm, but keeping the right records is crucial to the stability of your operation. Detailed records are a great asset to have when making crop insurance claims, and can help protect you from profit loss resulting from a damaged crop.

Regardless of your insurance type, the size of your farm, or what crops you grow there are a few different types of records that will help you run a more efficient operation:
Operational Records: This includes anything that you'll want to track in your day-to-day operation. From important events like planting dates, fertilizer applications, and harvest to things like inputs, scouting notes or equipment maintenance, keeping a detailed record of all the aspects of your operation helps you make better in-season decisions and provides you with big-picture insights about how your operation works.

Financial Records: Keeping track of every cost you encounter throughout the season, from fertilizer to labor to equipment costs, creates a detailed record of where and how much you spend—enabling you to prepare for future spending and providing you with a better look into your bottom-line.
Production Records: These records track your yearly production for each field, and allow you to better understand the impact of what works and what doesn't. To see how these management decisions impact your profitability, you can conduct a cost-benefit analysis comparing your production and financial records.
Weather Records: This includes tracking daily weather events that occur as well as weather patterns throughout the season. Having accurate weather data for your farm is a helpful tool when making Crop Insurance Claims, and can help strengthen and speed up the process of making a claim.
You can learn more about the value of these different types of records from this Penn State Extension article, Record Keeping as a Form of Risk Management.
Preparing the future generation of farmers
As a new generation of farmers prepares to take over, providing them with detailed records about the history of your operation will help them learn faster and aid in their understanding of financial management. With digital tools becoming increasingly popular, you now have easier, more efficient ways to transfer your knowledge to the next generation.

Joe R., a farmer from from Iowa, has 3 children that he hopes will someday take over the farm. He says that keeping records digitally is a "good long-term use of great information", unlike paper records that can get lost, destroyed, or might just be hard to decipher. Keeping digital records helps him feel more confident that when his children take over, they'll have all the information they need.
"The data's there, so when they take it over, they can look back and see, 'hey, here's what they were doing'."
How to use technology to keep better records
Despite the increase in technology that helps growers easily keep digital records, 37% of farmers are still using pen and paper. As for the other 63% who have made the transition to digital record keeping the consensus is clear: using technology is an easier, more efficient way of keeping records.

Dustin K., a corn and soybean grower from Wisconsin, keeps digital records to reduce his workload and easily report to the FSA:
"One of the biggest advantages was when I went into the FSA to report plant dates. I simply showed them my FarmLogs account and went field-to-field until I finished reporting."
He says that with an expanding operation, "it's hectic enough with field work, let alone remembering what day you planted," and notes that being able to keep records digitally has significantly reduced his workload. Read more about how Dustin keeps digital records in our blog post, How One Wisconsin Farmer Uses FarmLogs Automatic Activity Recording to Keep Better Records.

Organic farmers Clint and Ashley Jessen have also adopted digital record keeping. Running a 20,000 acre organic farm requires keeping a lot of detailed records. The Jessen's knew that keeping track of records on paper wasn't a sustainable approach for their farm and decided to look for farm management software that could make record keeping easier. That's when they found FarmLogs.
"Everything that FarmLogs does we already used to do, but we used to do it in the longhand version on FSA maps and every employee had a book. Since we're an certified organic farm, we have to categorize every operation that we do daily on the farm. FarmLogs made that so much easier—it's awesome."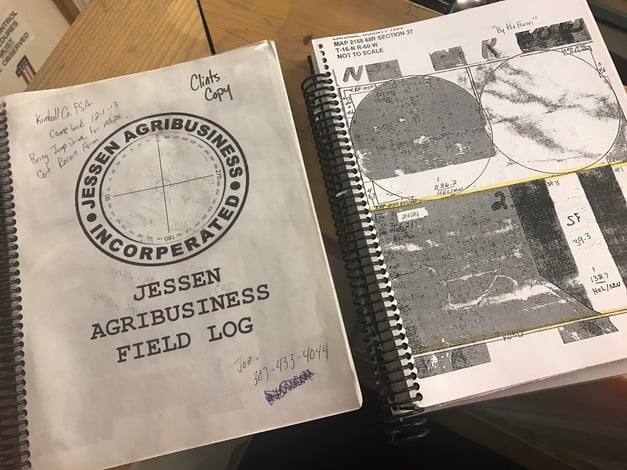 An old log book from the Jessen's farm
They say that using technology has made reporting those records easier, too:
"When the inspector shows up, all I have to do is show him my iPhone or my iPad, and he can see all of our perfect record keeping of the who, what, where, and why on each and every one of our 480 fields that we have. It's so much more convenient to be able to use a tablet versus the two 5 ½ inch binders that we used to keep."
You can read the Jessen's full story in our blog post, From our Farmers: The Jessen Family.
---
Works Cited
FarmLogs. (2017, April). State of Ag Report.

Jones, T. (2013, August 13). Three Reasons Farmers Need to Keep Better Records. Retrieved from: http://seedstock.com/2013/08/13/three-reasons-farmers-need-to-keep-better-records/

Kime, L. Record Keeping as a Form of Risk Management. Retrieved from: http://extension.psu.edu/business/farm/resources/publications/record-keeping-as-a-form-of-risk-management

Nizinski, R. How One Wisconsin Farmer Uses FarmLogs Automatic Activity Recording to Keep Better Records. Retrieved from: https://blog.farmlogs.com/wisconsin-farmer-uses-farmlogs-automatic-activity-recording-to-keep-better-records

Nizinski, R. From our Farmers: The Jessen Family. Retreived from: https://blog.farmlogs.com/from-our-farmers-the-jessen-family