We kicked off 2018 with one goal in mind: make marketing easier for farmers. We'd heard from so many of you that marketing was the most difficult aspect of running your farms, and we wanted to do something about it.
"We've been building new capabilities that help you make sure your investment of time, money, and hard work put into growing a crop pays off for you and your family."


– excerpt of a

letter from FarmLogs Co-founder & CEO
As 2019 approaches, we've been reflecting on what you helped us build this year and where we're headed next. Special thanks to the farmers who continue to provide us with feedback and who are helping us create a better future for farming.


Let's start off with the FarmLogs Marketing tool
In January this year, we included the Marketing tool as a part of all free FarmLogs accounts. The goal was to provide a simple way to see how your bottom line is being impacted by your sales, and the price you need to sell your grain at to make a profit.

But that was only the first step. Here's how the Marketing tool looked at the start of 2018: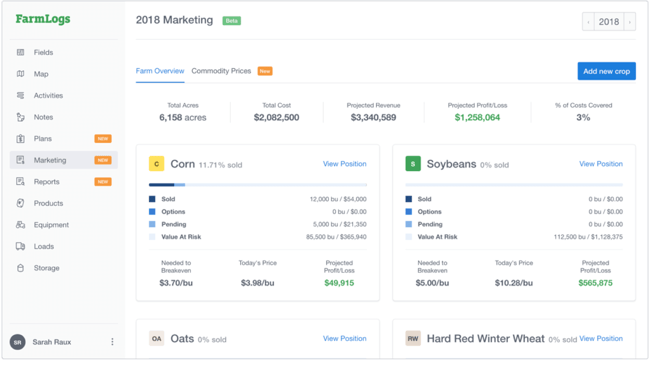 Next, we changed how bushels were categorized and added the Goals feature
In April, we refined how the Marketing tool categorizes sold bushels to better reflect the feedback we got about how you think of your marketed crop.

We also heard from you that creating a marketing plan (and sticking to it) wasn't easy. So, we created the Goals feature to make it a little less work to stay on track.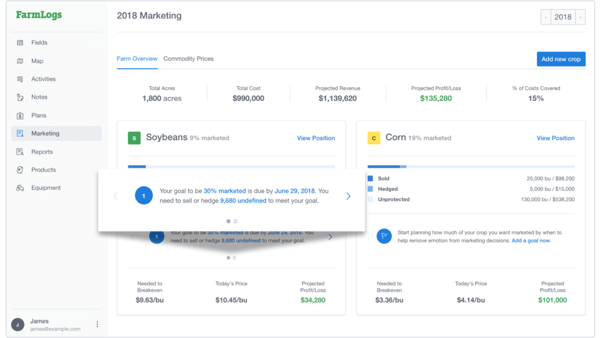 Then, we updated the look of the tool and added the ability to check futures and local prices
In May, we gave the Marketing tool a cleaner dashboard view to help you better see your marketing position at-a-glance. We also added the Market Prices feature to provide all the information about your marketing in one convenient place.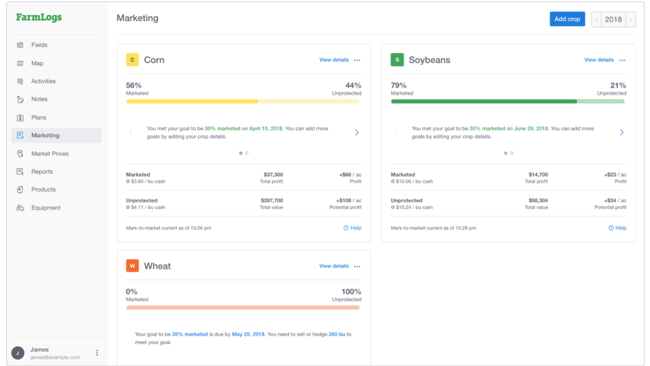 After that, we worked to customize the Marketing tool and launch the Alerts feature
We heard a lot of feedback that even though the Marketing tool helped keep your plan organized, there still wasn't a good way to know how different crop varieties were performing. So, we added the ability to customize crop names.
To help remove some of the burden of watching the market, we also launched the Alerts feature, which notifies you about important futures price movements for your commodities.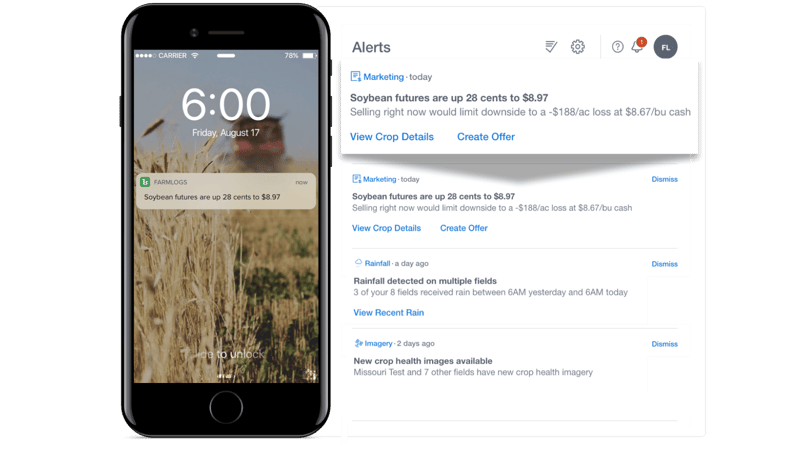 In November, we added top harvest bids and updated how we show futures prices
To give you a true, at-a-glance view into your marketing, we added the top harvest bid for your commodities to the Marketing tool dashboard view.
We also heard from you that even when you're watching the market, there isn't an easy way to measure changes over time. So, we refined how show futures prices by adding a "daily change" and "spread" column to give you a clearer look into how market prices are trending.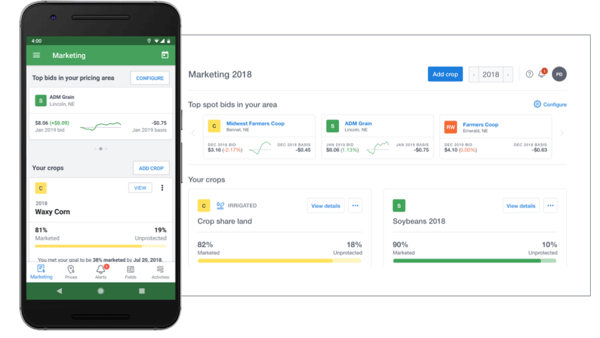 Now, we're working on a way to make marketing even easier
While we continue to improve the Marketing feature in FarmLogs, we've also been working on another project that will make executing your marketing plan even easier. Stay tuned for an announcement from us later in January to see what we've been building this winter!
Thank you for all the work you do on the farm, and for helping us build products that make grain marketing easier. Have a Merry Christmas and a Happy New Year—see you in 2019!