The Van Trump Report recently wrote this article sharing a comment they received from a subscriber about the state of U.S. agriculture.
The commenter writes that while land can be an obstacle for young farmers looking to enter the industry, the biggest challenge that U.S. farmers face is, and has been, the price of commodities. They write that this challenge is widely misunderstood by the general public, and with the exception of seed and chemical companies, input prices are about as low as they can get, which means that cutting costs isn't enough to make an operation profitable. The commenter calls to farmers, asking them to come together to figure out a new way to combat low prices and move the market in a new direction.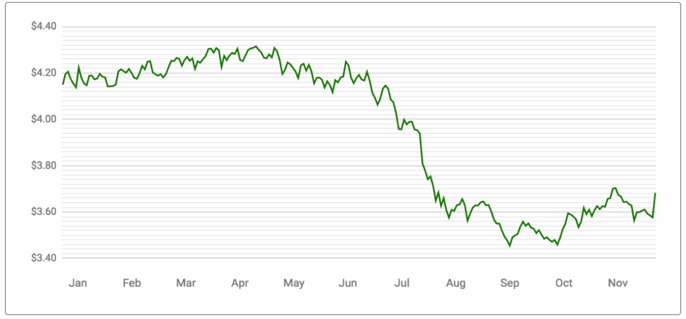 Average of Daily December Corn Prices 2014 - 2016

While higher commodity prices would be a quick solution, global markets will always drive prices, and those with high costs of production will not last in an increasingly competitive global market. Kevin Van Trump writes that he doesn't expect this to change in the future. He says:
"Technology along with shifts in global production and geopolitical policy has made the game much different than that of fathers and grandfathers. Those who do not want to scale and or stay ahead of the technology curve are going to continue to struggle."
Where does that leave small U.S. farms?
Diversification, whether in your marketing plan or commodity production, is a key to mitigating risks and expanding your potential for profitability.
Even when commodity prices are hovering at or below the cost of production, evaluating your input usage can help you better understand which practices are giving you the best return on investment. If you can lower your cost of production, even by a few cents an acre, you have more flexibility to sell at a price that will help you cover costs. And when combined with a diversified grain marketing plan this can be a step towards a more profitable farm.
If you've already evaluated your production practices but are still struggling to break even, it could be time to start thinking about diversifying your crop production. This could mean looking into growing a new commodity or shifting to an organic production to get a more premium price.
Getting started with new commodities
Thinking about growing a new crop? The USDA has put together this List of Alternative Crops and Enterprises for Small Farm Diversification which can help you get started in deciding which crops might be a good fit for your operation. If you're looking for a little more information, check out the USDA's Diversifying Cropping Systems Bulletin.