We've been farming in Rock County, Wisconsin since 1844, over 170 years, and I'm a sixth generation farmer. Today we operate about 5,500 acres.
We really focus on aggressive marketing. We try to to find niche markets and customer bases all over the world. After listening to them and seeing what they want, we do research to figure out what we need to grow that crop or bring that product to market, if the numbers make sense. Then we try our hardest to use our tools, knowledge, and skillsets to deliver that product.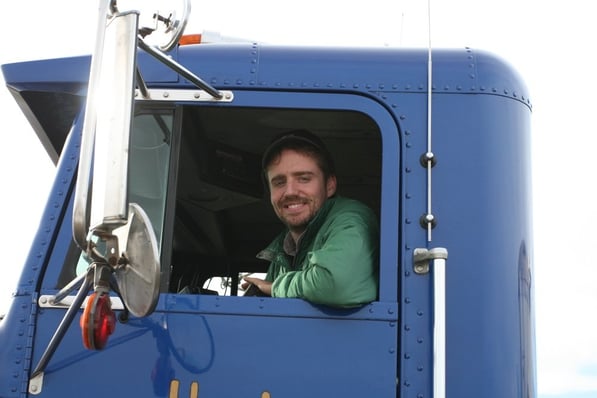 That's me, driving one of our semis
Knowing our cost of production
In addition to working on the farm, I also like to build my own technology. We recently built what we call a Key Performance Indicator (KPI) Dashboard—a cost analysis database where we have every field laid out. It's basically a cost analysis spreadsheet, where we have a line item for every input and sale price. We can see what our costs are, and where we'll be at for profitability based on projected yields and projected market prices.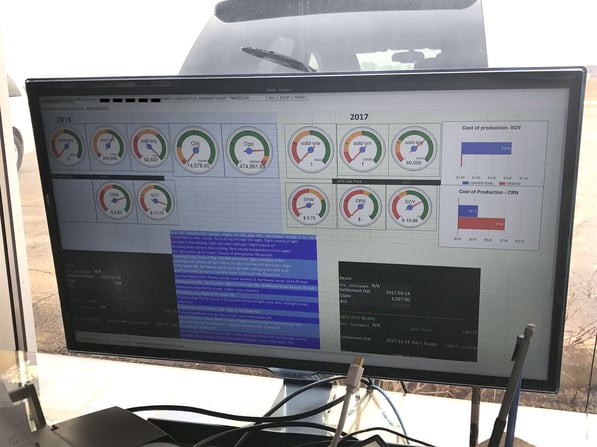 Our KPI dashboard
In order to build the KPI dashboard, I took all of the data and gave a weighted average by acre, and from that information, figured out our average cost per bushel. It's all in the cloud, too, so all we have to do is update our spreadsheets and the dashboard automatically updates.
Having a way to track our cost of production is so helpful in planning for the season, so we can see what it truly costs us to grow a bushel of corn.
When you ask a lot of farmers, "What do you spend to grow one bushel of corn?" they'll scratch their head, because a lot of farmers don't really think of it that way. We have what we feel is a very solid number—we know what it costs us to grow a bushel of corn and a bushel of beans.
Using data to make marketing decisions
Since we finished building the KPI Dashboard, we now have two years of really good data for our corn and bean crops. We have our inventory, how much we've sold, and what our average sale price is. What we're really trying to do is figure out our cost of production, and then see how that compares to today's market price.
The philosophy behind it is that if we could get a base hit, we'll do that. If we get enough base hits, we win the game.
A lot of people want to hold out thinking that the price of corn will go up. But, if you can make 25 cents a bushel profit, then you can pay your bills, keep the lights on, put some money in the bank, get ready for next year, and hold on while prices are depressed. If you hang on too long, you might end up getting bitten. That's the idea behind why we built our KPI dashboard.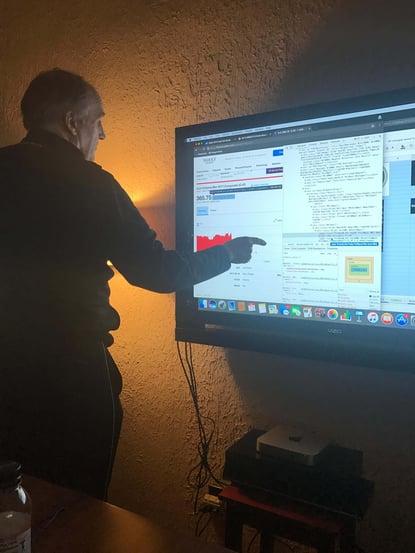 My dad, Randy (Whilden V), using the KPI dashboard

The dashboard also figures in market prices from the Chicago Board of Trade, so that I can take today's market price and write a formula so that my inventory can be multiplied by so I know if I liquidated today what I would have, and how that compares to our costs. There's all sorts of interesting ways you can poke the same problem and try to figure it out.
The KPI dashboard is something that we really put a lot of work into. It took us about two years to build from conception to the final product. Now, we have it on a monitor on the farm that runs at all hours of the day.
We can make actionable decisions based off of the information, and it's been really helpful.
All we have to do now is plug in our rent, fertilizer costs, seed costs, and then we get this output showing us where we're at. It's been a challenge, but it's a challenge I like.


Visit the Hughes Farms website at www.Whughesfarms.com.