There was indeed a big surprise in today's WASDE, but not one anyone really expected. Get the details in this WASDE recap by The Hueber Report:
Corn
The big shock was the world corn ending stocks figure. This huge revision, from 159.35 MMT to 307.51 MMT, came because of a decade-long revision to Chinese data. Ending stocks in China were raised from 58.5 MMT to 207.5 MMT based on the results of China's Third National Agricultural Census.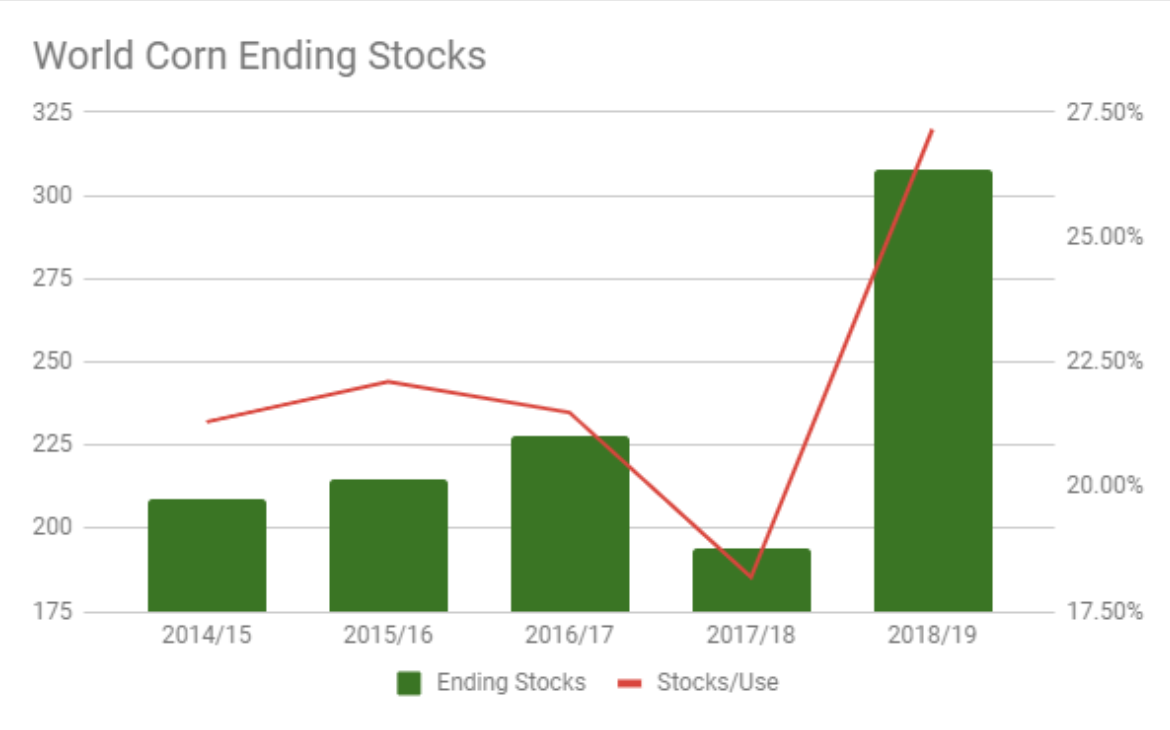 That census report is published by China's National Bureau of Statistics. The USDA's corn stocks for China are based on estimates by the NBS as well as other trade data as reported by Chinese customs. They raised corn production by 266 MMT from the 2007/08 to 2017/18 marketing years. It's important to realize this data was already known to the market heading into today's report, but the number was still quite bearish compared to expectations.
Domestically, things look pretty good for prices. The USDA lowered the corn yield from 1.8 bushels per acre to 178.9. This is in line with our max range estimate.
We continue to feel this number could come down for the final yield. Total production was cut 152 million bushels to 14.626 billion. Demand side adjustments came from a 50 million bushel cut in the Feed and Residual category as well as a 25 million bushel cut to exports. Ending stocks worked out to 1.736 billion bushels, which was a 77 million bushel cut from last month and 37 million less than the market was expecting.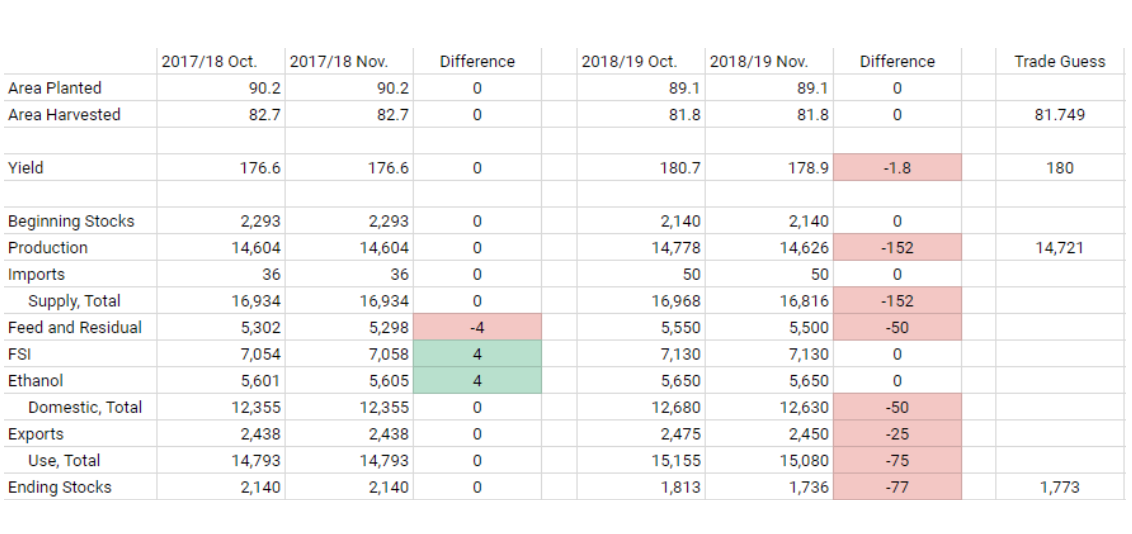 Soybeans
Domestic soybeans saw a relatively large cut to exports. They were down 160 million bushels to 1.9 billion. Given the pace of export sales lately this makes sense and was a necessary adjustment. Yield was reported at 52.1 bushels per acre, which is a full bushel lower than last month.
Other changes were a ten-million-bushel increase in crushings, seven million less in seed, and two million less in residual usage.
Ending stocks were raised 70 million bushels to 955 million. The market was expecting 898 million.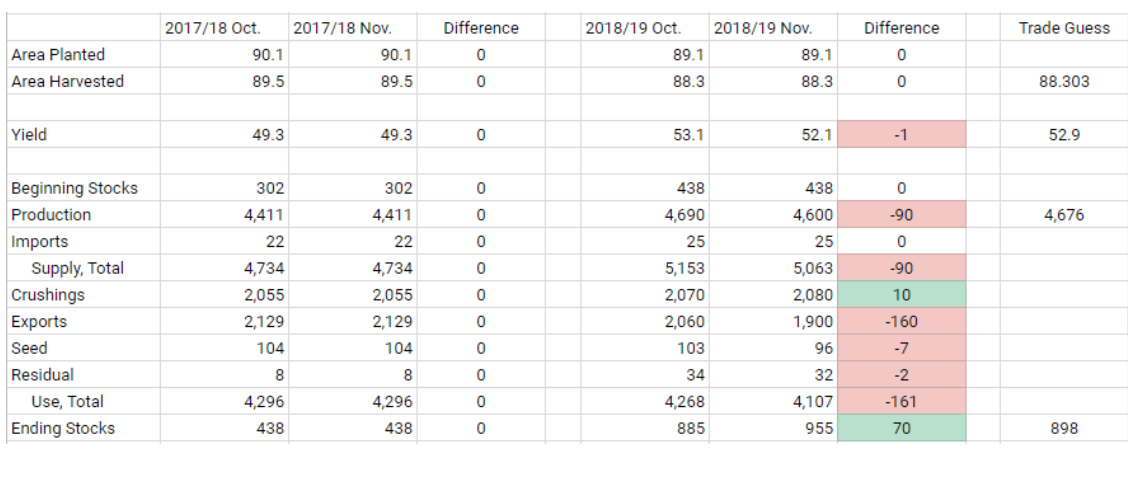 World stocks rose to 112.08 MMT on a slight cut in usage as well as an increase in Argentine production. The market was expecting an increase, and the final number was within the range of expectations.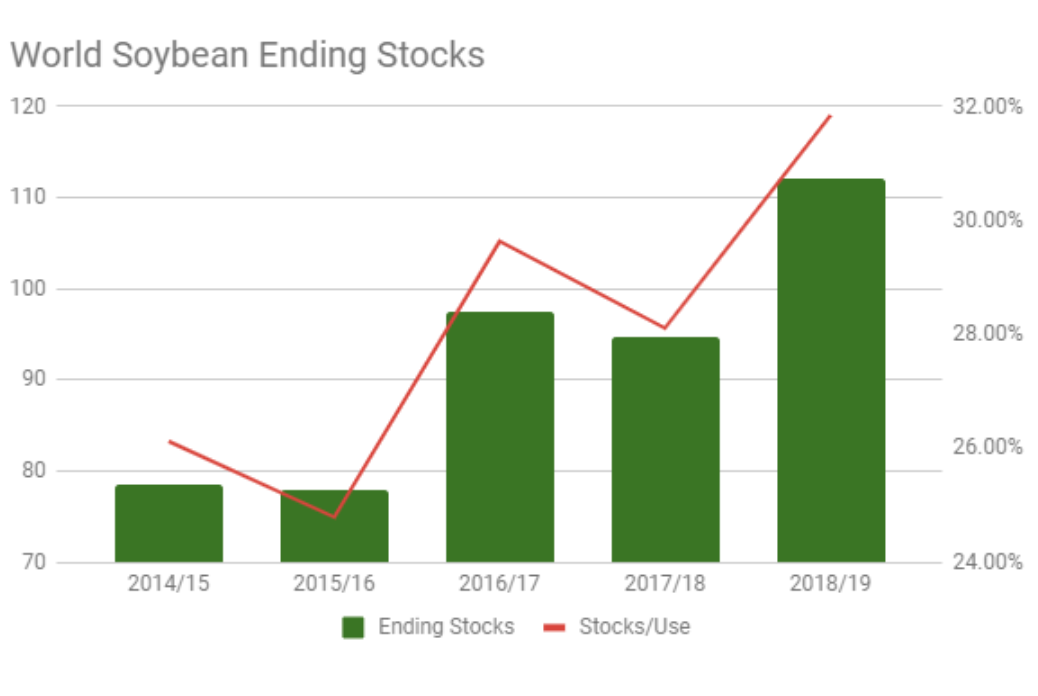 Wheat
There were few changes domestically to the wheat balance sheet, but world ending stocks came in higher than expected at 266.71 MMT.
Analysts had a range of 257.5-261.2 MMT. As with corn, the big change came from Chinese stocks, which went from 136.12 to 143.57 MMT. No other significant changes were reported.