We've been farming in Rock County, Wisconsin since 1844, over 170 years, and I'm a sixth generation farmer. Today we operate about 5,500 acres of parallel production. We're certified organic and conventional, and we're growing corn, beans, wheat, rye, oats, vegetable crops, sweet corn, green beans, lima beans, and sometimes beets. We also have a small field of organic Sunflowers.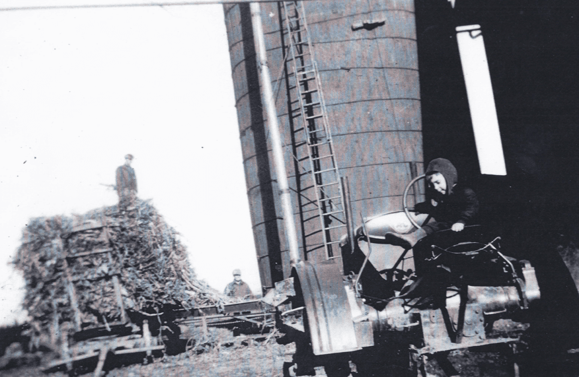 My grandfather, Whilden Hughes IV, on a tractor as a young boy
We do a lot of different specialty corn varieties. We grow yellow, white, and blue conventional NON-GMO corn as well as organic yellow and blue. We also grow organic sweetcorn. We're pretty diversified.
We want to set ourselves as a benchmark for what a 21st Century farm can be.
We really focus on aggressive marketing, finding niche markets, finding customer bases all over the world, listening to them, seeing what they want, and then trying our hardest to use our tools, knowledge, and skillsets to deliver that product. We do some research, jump online, or do whatever it takes to figure out what we need to grow that crop or bring that product to market, if the numbers make sense.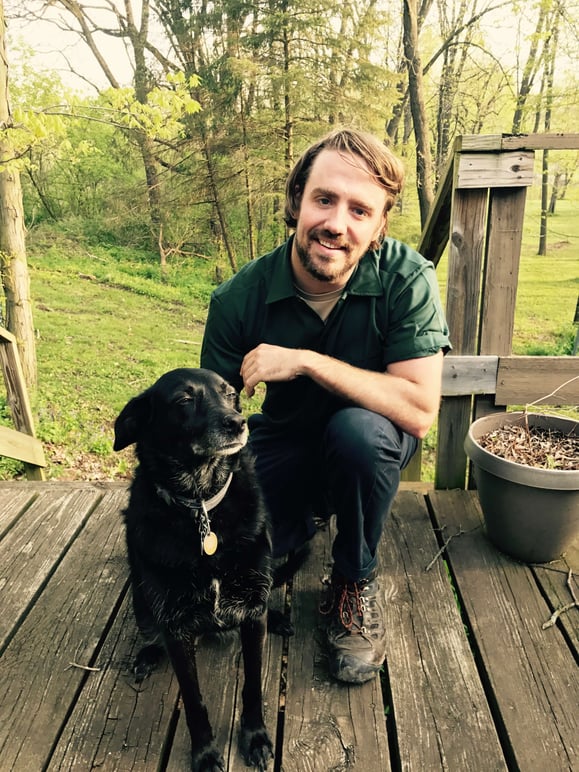 Me and my dog, Hanee
Adopting New Technologies
I'm really passionate about the intersection of food and technology. Whenever I see a new service, or a new piece of technology, or a new idea, I always kind of instinctively come back to, "How can I incorporate that into the operation?"
In the past five or ten years precision ag has kind of exploded. I really do think we're on the cusp of a renaissance in that industry.
I want to understand it and I want to be someone who sees the future first. That's what I'm really curious about.
There's definitely challenges, and there's definitely failures. But, having a passion for technology and agriculture makes it easier than it would be for someone who just felt like they needed to do it because the guy across the fence was doing it.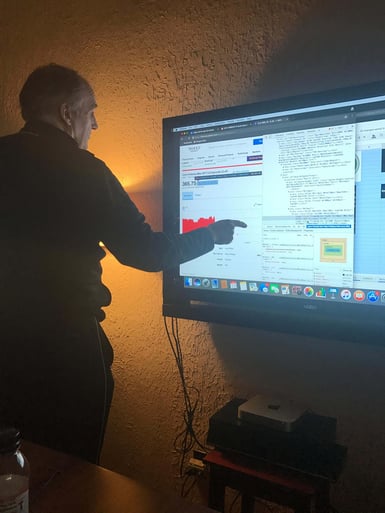 My dad, Randy (Whilden V), looking at the KPI dashboard we built
At the end of the day, we want to produce a product and deliver it to market in a way that is responsible. We like to use new technology that helps us see crop results, soil types, and historical yield logs and tie it in with some of the knowledge of the older generations.
We try to bring those two trains of thought together, so we can use some of the latest and greatest, cutting-edge technology and data along with the time-tested traditions of my dad, my grandpa, and my great grandpa.
What to know when adopting new tech
The first thing you'd have to know is sort of that old adage of, "Garbage in, garbage out." You have to be committed to putting in the time and the effort, and you have to have the patience to put in the data. It's also important that you select a service that gives you good actionable output, so you aren't putting all this information into a service and not getting much in return.
Whenever I speak to the software salesman or someone trying to sell the latest piece of hardware, I always kind of return to, "What are the actionable items? What's going to take our operation to the next step?"
Before we decide on using anything new, I always do a cost analysis. I make a spreadsheet to figure out, "If I can save X number of dollars per acre, or if I can increase my yield by X number of bushels, how many times would I have to use this service in order to get my investment back?"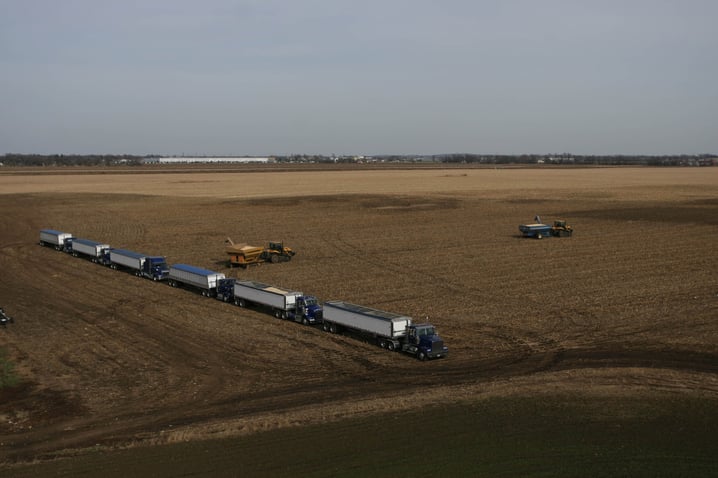 Harvesting on our farm
I think a classic example would be with FarmLogs. It's great for the regular, everyday user to be able to access things like weather tracking, so you know what your field conditions might be like before you send somebody across town in a piece of equipment. The other insights from the app are great, too. It doesn't take long for you to get something back on that.
Managing the farm with FarmLogs
FarmLogs is a great logistical tool for our farm. One of the reasons we started using it was for the rainfall tracking. We farm all over the county, so to get from one field to the other by pick-up truck is sometimes 30 to 40 minutes. Imagine loading up the tractor and driving all the way over there only to find out that the field's too wet. So, we're using the rain tracking to make management decisions, like where and when to send people out.
We also use the GDD tracker. We follow the heat units on there so we know when to expect pollination, and to see when we might be able harvest.
FarmLogs gives us insights to back the logistics: where to send combines or where to do an irrigation event. It helps us make agronomic management decisions.
We're also using the Satellite Imagery, and we compare that with our historical yields. We've got about six or seven years of yield data that we've been able to load into our FarmLogs account. We like to use the split view and do a side-by-side comparison of yield and Crop Health Imagery.
We were really able to unlock some insight that we didn't really have before.
There's all sorts of different information you can glean from the FarmLogs app. It enables us to unlock a detailed view of our farm on an acre-by-acre basis. It's great for knowing and documenting field conditions, soil type, and agronomic history. We're able to take all those pieces and interpret them. There's an art and a science to it, and we're working on finding that balance.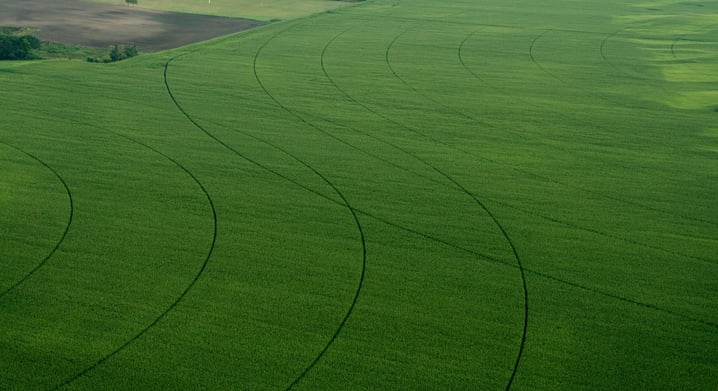 Aerial view of one of our fields
Detecting yield threats with FarmLogs Satellite Imagery
We've found that Satellite Imagery helps us lock into actionable insight—it gives us the information that we can carry forward into an actionable outlet.
Last season we had a field of soybeans that got Sudden Death Syndrome (SDS) in the beans. We found that the yield map from harvest 2016 was almost identical to the Crop Health Image from August 23, when that crop was still in the field.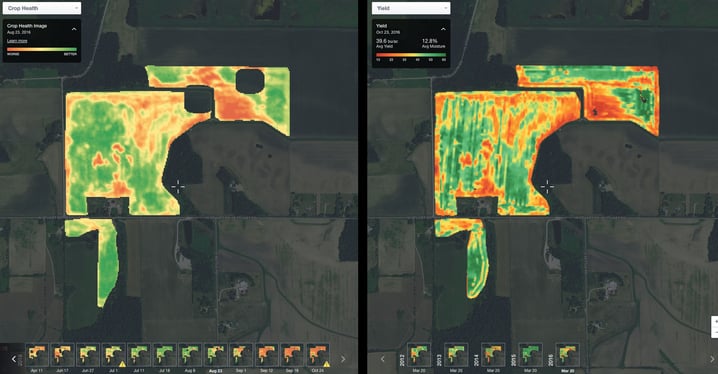 Satellite Image (left) and yield map (right) for our soybean field that got SDS
Had we looked at the imagery before, we would have known right where the SDS was and also what we would have in terms of projected yield. We could have been looking at this on August 23rd and we could have probably adjusted. Instead, we went into the field expecting better yield than what we got.
It really proved to us that there's potential here to unlock insight that you just can't have on the ground.
Now our struggle is, "How do we take it and learn from it?" On our dashboard monitor, we're able to browse the web, so we use the Field Data Explorer and we'll all go through Satellite Imagery for our fields and just look and learn. It's a really powerful thing and it stimulates dialog. People get different insights when they see different things. It helps us learn and discover so we can figure out how to do better next year.
For us, we really find value in being able to learn from our experiences and it's great to have a database where we can look back on and rehash what went right and what went wrong.
Satellite Imagery definitely has a lot of potential to save us time and money. Really, the only other way to get images like this would be to buy an $8,000 drone and fly every field manually. I think it's a pretty good value when you consider that you have the data and that you can see multiple images for every field frequently being uploaded into your account. If you need the imagery, this is definitely the most cost-effective way to do it.
Technology in tandem with agronomists
I think it's good to use technology alongside of your agronomist.
It's back to that idea that on the farm there is a Venn diagram of knowledge, and we want to be in the center.
We really like to work kind of in tandem with our agronomist because we have knowledge that he doesn't, and he has knowledge that we don't. When that knowledge comes together, that's where we're able to truly maximize our potential.
We've had a couple instances last season where we had been trying to figure out what to do with the farm or what our management plan might be. We sat down with our agronomist, to walk him through the Crop Health Imagery, to help inform his decision-making.
FarmLogs is a good tool for collaboration and for sharing information and insights.
Everyone we choose can access the information via phone or tablet. It can really be a resource for sharing knowledge, communicating, and remembering what you did.
The future of our farm
On our operation, we're trying to really drill into and fully utilize the technology and the investments that we've made. We are able to do variable rate for basically anything, even our irrigators can do variable rate. I think our next step is to really dig down into the data and try to glean insights that will make our business more profitable and more environmentally friendly.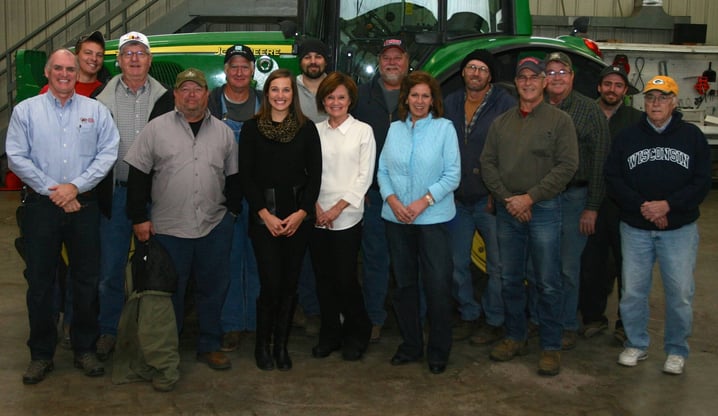 All of us at Hughes Farms
That's really the two goals for us, to increase profitability and increase stewardship.
Profitability and stewardship go hand in hand, because if you're putting less inputs on, you're saving money, and you are making less of an environmental impact.
That's really what I'm passionate about. I love growing corn, but what really drives my passion is figuring out how we can do more with less, because I think there are a lot of challenges coming down the road, and we're all going to have to figure out how to adapt.
---
To learn more about Hughes Farms, visit their website at www.Whughesfarms.com.