I've been farming most of my life. I grew up helping my dad on the farm, and with the exception of the years I spent in the Air Force, between 1968-72, and the three years after that which I spent as a missionary in Nepal, I've been farming ever since.
I took over our family farm in Clay Center, Kansas in 1990. I grow wheat, sorghum, and soybeans, and I plant a cover crop which is generally a mixture of four or five different varieties of seeds. I'm also a major investor in a 1,700-cow dairy operation. I participate in a government program called the Conservation Stewardship Program (CSP), which focuses on creating ways to farm more sustainably. Right now I have 753 acres of natural crop land, and I also have some pollinator plots that are a part of the CSP.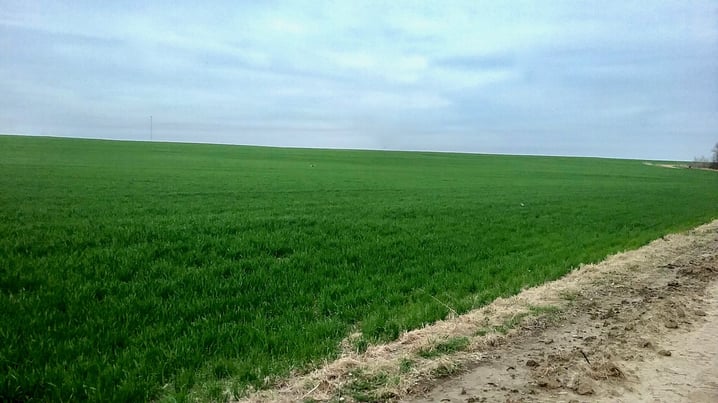 One of my fields in Kansas
Using technology for better farm management
I initially got into Farmlogs for the Rainfall Tracking feature. It's the most valuable asset that I can ever imagine having. I was using a different farm management app before, and to me it seems like FarmLogs does a lot better at measuring the actual rainfall on the farm.
Whenever it rains, I get an alert showing me which fields received rainfall.
It's amazing how much variation there is in rainfall from field to field. I've always known that, because I used to have rain gauges on my fields so I would know how much it rained, but I had to drive there to find out.
Now, I don't have to worry about whether I could take any equipment up to a certain field of not. I just have the FarmLogs app right on my smartphone, and it allows me to find out what's going on every morning.
A smarter way to scout
When FarmLogs first announced Satellite Imagery, I signed up all of my fields. I notified my agronomist, and he went out with somebody to scout the area, but they couldn't find anything. Well, three weeks later I went to that same field and I found Chinch bugs right at the spot indicated in the imagery. They totally decimated the crop in the area.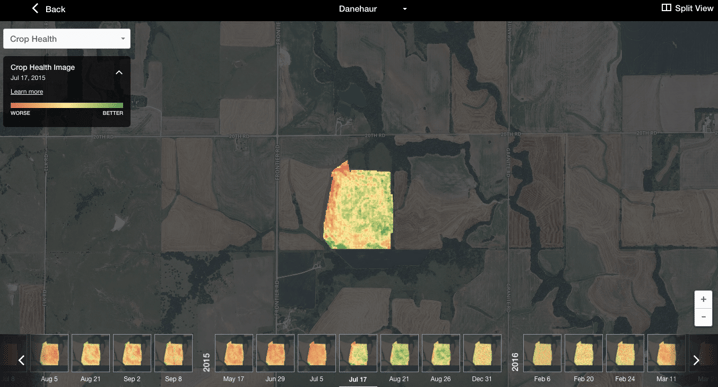 Satellite Imagery in George's FarmLogs account.
Most likely, you're not going to walk in the right place where the insects are with regular scouting, but FarmLogs makes that a lot easier with Satellite Imagery. It's just unbelievable what FarmLogs can do for a farmer.
The insects were on an area right next to one of my wheat fields, and Chinch Bugs are very detrimental to grain sorghum. If I put a value on what I lost that year from the Chinch Bug damage, I'm sure it was over $300 on that one little spot.
Evaluating crop performance
FarmLogs Crop Health Imagery has really helped me to be more efficient when harvesting. You can see which variety is going be doing the best for you before you even see a yield map.
It's also been really beneficial when I'm making the decision of what to plant for the following year. It's just blown my mind to see how one variety shows a lot of stress and the other variety doesn't show stress.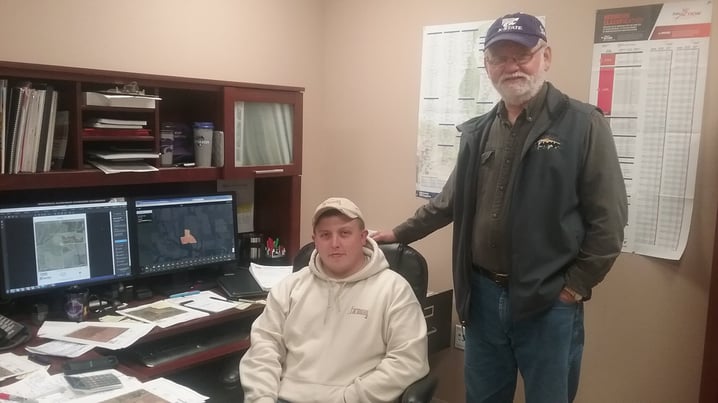 Me (right) with my agronomist (left) looking at Crop Health Imagery in my FarmLogs account
My agronomist likes using FarmLogs, too. He can log in, and write notes right in my account about how my crops are doing. All I have to do is pull up FarmLogs and see what he's done, so I don't have to call him and he doesn't have to call me.
During the growing season, FarmLogs really helps him monitor my crop growth. He can go in and check the rainfall, GDD, and he even gets notified about new Crop Health Imagery in my account. Plus, he can always make sure he's scouting the correct area by using the GPS coordinates in the app.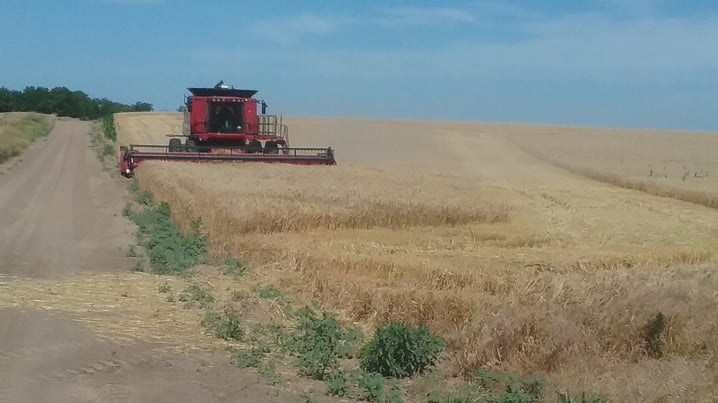 Harvesting one of my wheat fields in Kansas
Getting into new technology
Technology like FarmLogs is another tool that farmers are going to have to learn to use. To me, it's a no brainer.
Knowledge is key in farming, and I don't think a farmer can ever get enough knowledge, even at my age.
You've got to get your feet wet, just like swimming. The only way you're going to learn is by jumping in. Yeah, you may take in a little bit of water, but you're going to survive. I will be 68 this summer. I'm using FarmLogs, and I thought I'd never get into GPS and all that.
It's so helpful to have that extra information and knowledge that FarmLogs provides for me, whether it's through rainfall or satellite imagery. That is a huge benefit for any farmer.
It's also a confidence thing, like an insurance policy. Why do you take out insurance? Having FarmLogs is similar to having insurance. You may not use all of it, but you're definitely going to use parts of it, and you've always got somebody looking at your crops for you.