I 've been around the farm my whole life. Growing up, my dad brought me out to the farm on the weekends, and those were probably the best weekends of my life. I would ride in the equipment and we'd drive by the neighbors and my grandparents' house. Once I turned 16, I could drive the tractors and I've been out there pretty much every day since. Even if there's nothing in the field or nothing going on at the farm, I'll walk around or find something to do or I'll even just sit there and maybe take some pictures. I love the farm—it's like my home away from home.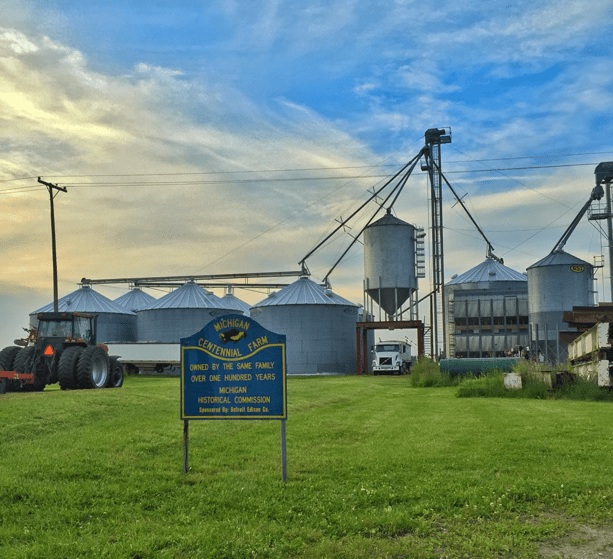 Our 'Michigan Centennial Farm' Sign in Weberville, MI
A family business
On the farm I get to work with my grandpa, my dad, my uncle, and my cousin. I love working with family. It's definitely a huge deal farming with them, and I know it's a huge deal to my grandpa and my dad. They get to see me moving up with machinery and remembering how they moved up over time.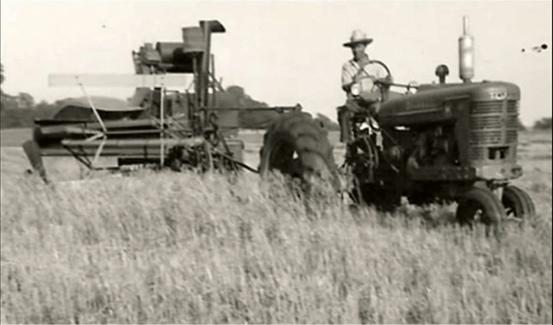 My great-grandpa harvesting
There's three big farms around us. We're like a little family, the Kubiaks, Jorgensens, and Chamberlains, and we all live within less than a mile of each other. We're all like family and we all learn from each other. I learn from my buddies, their parents, and their grandparents, and we all learn from our mistakes, too. It's great to have other farmers to learn from. The other farms don't have the same equipment as us, so I'm learning from the different things that they're doing with their equipment. Every time I go over to their farms, they're always working on something or talking about different tactics or approaches to their farming. I always like to listen to new ideas, to see if it's something I can incorporate into the way that we farm.
The Next Generation
Being a young farmer, there's so much more to it than what you might initially think. You can't act like you know everything, and you should always ask questions. To me, it's a really big deal learning from my grandpa. I don't take the things he says for granted. I know that he's worked just about everything we have now and any advice that he gives me, I'll take. I know there's a long road ahead of me and seeing how far my grandpa's come inspires me to be the same way.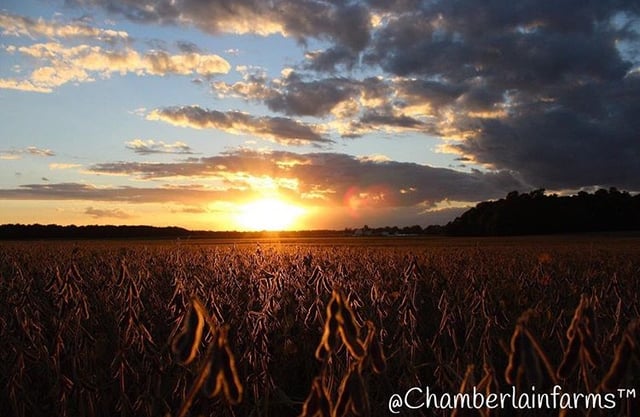 Soybean field at sunset on our farm
How technology is changing the farming industry
From what I've seen, even the past few years, technology on the farm has dramatically changed. Honestly, I like the traditional way, but I wouldn't mind some of the higher tech stuff, like precision planting. You can save so much money on wasted seed just by putting down more seed in the right places.
Technology is definitely headed down a good road so far.
There's also a huge farming community online and within social media. I love to do photography and make videos of the farm on my drone. Last year I made this really cool harvest video that farmers from all around Mid-Michigan contributed to. This year I'm asking farmers all over the U.S. to send me drone footage so I can compile it into a video of harvest from all 50 states. I have 52,000 people that follow my Instagram account, so it's been really cool to share ideas with farmers all over. Ever since I made the Chamberlain Farms Instagram page, I've learned that no one farms the same; not even remotely the same. It's been interesting seeing the different equipment they use, and the different ways they work the ground, plant or harvest.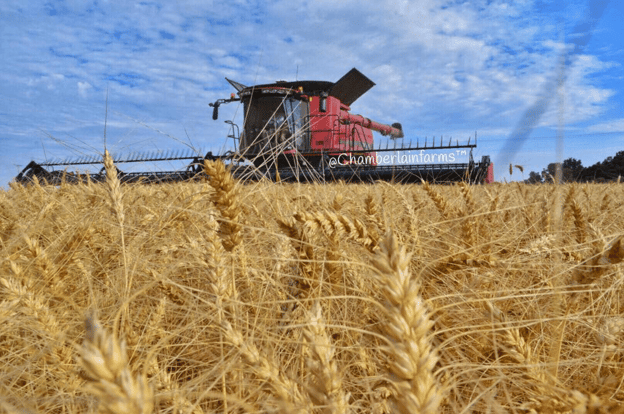 Wheat harvest on our family farm
I actually discovered FarmLogs through Instagram—I had seen other people tag FarmLogs or talk about FarmLogs and it had always just been a name in my head. So, I looked it up one day and it was pretty neat, especially the fact that it was free for what I wanted to do.
I've been using it for two years now, along with my grandpa, uncle, and cousin. A lot of us on the farm were used to just working the fields, calling the manager, and telling them, "hey, we're done, where do you want us to go next?" But FarmLogs has helped us slowly transition to keeping more digital records.
When I first got FarmLogs, I explained it to my grandpa and ran him through the basics of what it can do. He's from the older generation and they're used to keeping hard copy records, so technology like this is new to them, but I know he really likes the idea of FarmLogs and he's been transitioning into using it more.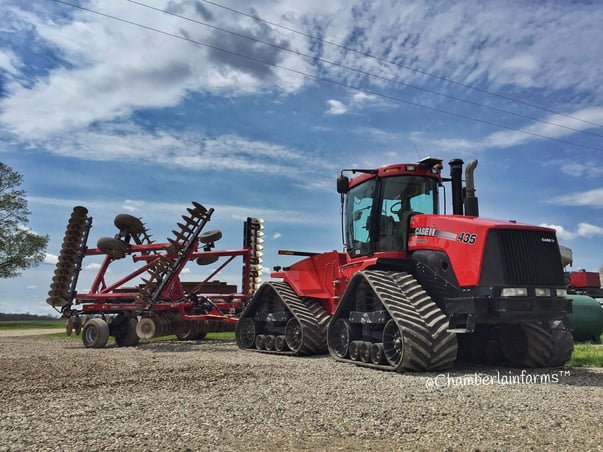 Getting ready to til the fields.
Using FarmLogs on the farm
Right now, we mainly use FarmLogs for keeping track of our field locations and keeping records. This season we're going to try to keep even more records in FarmLogs, like entering what tractor we used, what tillage, the time of day, and the weather. That way we can go back and see what we did and it's all right there in our account.
I also like that you can pinpoint the exact spot in the field where a tree might be down or where some brush could be fixed, so when I go back I can tell exactly where I need to go. I definitely use the notes quite a bit, especially taking notes about the field conditions: maybe it was a little muddy or a little dry, or maybe there was a spot somewhere in the field that had a big rock or something like that. I can just add the note and then my grandpa can see it, and when he's out in the field he can watch out for where a rock or a muddy spot is.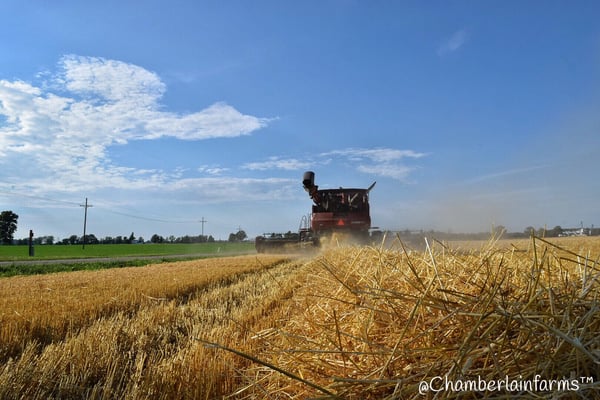 Harvesting at our family farms
FarmLogs has been especially helpful when mapping our harvest route. We're able to see what corn fields we have and where they were, so we can make a route that is as efficient as possible. That way, we aren't jumping around all over the place or potentially forgetting about a field.
The Rainfall Tracking feature is a huge help, too.
It's pretty dang accurate, and you can get a good idea of how wet your fields have been all year or how wet it's going to be when you get in.
One of my neighbors uses it all the time. He has some fields 10-15 miles further up north, so he can tell how much he's got up there. He loves that about FarmLogs.
The Soil Maps have been a huge thing for us too. We can tell where the sandy loam areas are and decide how much to plant and spray based on the soil type. It's been really helpful to see the different soil textures.
Follow Nick on Instagram @ChamberlainFarms to see more of his photos and to send him video footage of your harvest. He'd love to include your farm in the 'Harvest Around America' video!