With harvest completed and the 2017 crop in the bins, now is the time to begin planning for 2018. These five things will help you set yourself up for success in 2018.
1. Review growing season notes and satellite imagery to identify areas of improvement
Be sure to revisit your field imagery and field notes from the growing season to identify areas within your fields where improvements can be made. Some things you might notice in your imagery that can be improved to enhance production include low, wet areas and tree or fence lines. These areas will be indicated by warm red and orange tones which signify low or no vegetation. Consider increasing your seeding rates or applying additional nitrogen to the low areas to stabilize plant populations.
You also may notice areas of dense vegetation, indicated by green, that are not consistent with the rest of the field. This might indicate areas within your fields where weed pressure is high. To reduce the competition with your crops, consider changing your herbicide program, spot-spraying, or manual removal.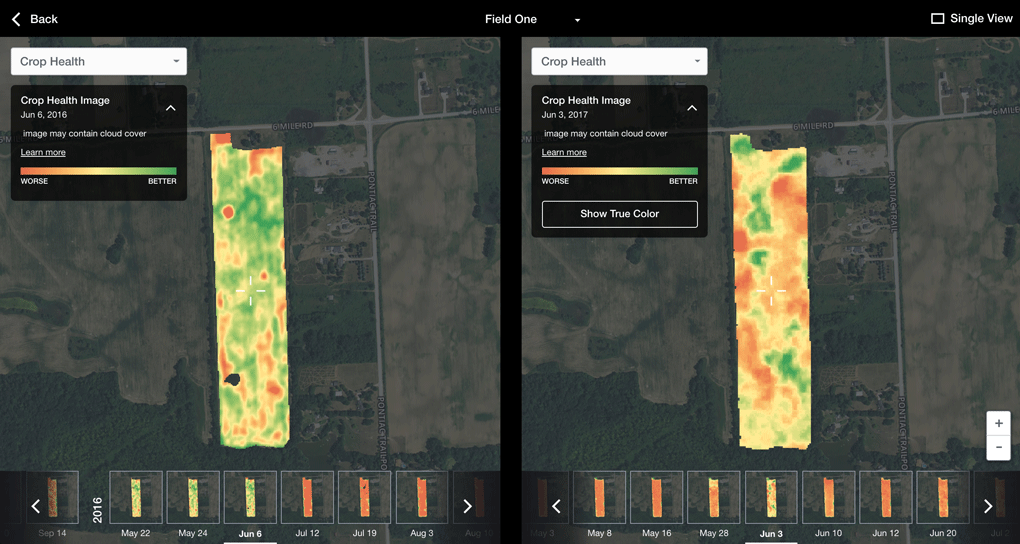 With the FarmLogs Field Data Explorer, you can compare multiple satellite images from the same field.
2. Calculate and evaluate your 2017 cost of production
Focusing on increasing yields is fun, and nothing fills you with more pride than quickly filling your combine hopper during harvest. However, with steady but low commodity prices and high input costs, this might not be the best way to help your bottom line. Instead, try taking a thorough look into where you invested your cropping budget in 2017.
Evaluate all of your input costs, from seed to chemical and fertilizer, to make sure you are achieving the best return on investment possible. Record-setting yields do not make you money if your cropping budget is also setting records!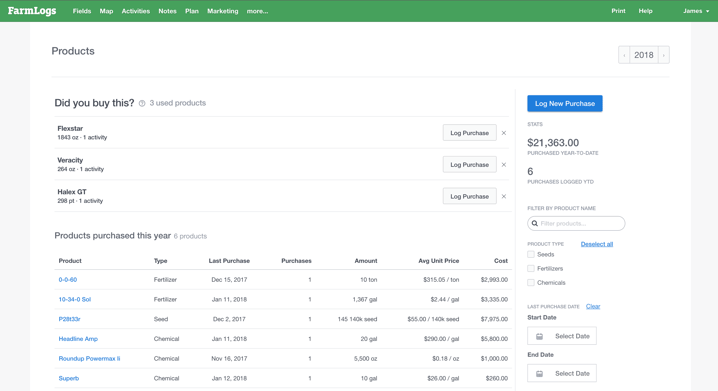 FarmLogs Complete plan shows what inputs you used, how much, and what it cost.
3. Create a plan for 2018 production
Your 2017 plan is a good place to reference when you begin to build your plan for 2018. Make sure your 2017 plan is complete with the correct price and rate for each input as well as the field to which the inputs were applied. This will give you a complete picture of your agronomic inputs, and help you establish a firm, but adjustable budget for 2018. You can also use this plan to solicit quotes from multiple retailers and suppliers to ensure that you get the best input and application prices possible.
4. Perform equipment repair and maintenance
Well-running equipment is paramount to your operation. Proper equipment repair and maintenance can prevent expensive and time-consuming repairs during the growing season, reduce machinery repair costs, and decrease the likelihood of injury due to equipment malfunction. With that in mind, be sure to take the the proper steps during your off-season to prioritize your farm machinery. Consider how you store your equipment, and if you can, store it inside to avoid rust and deterioration.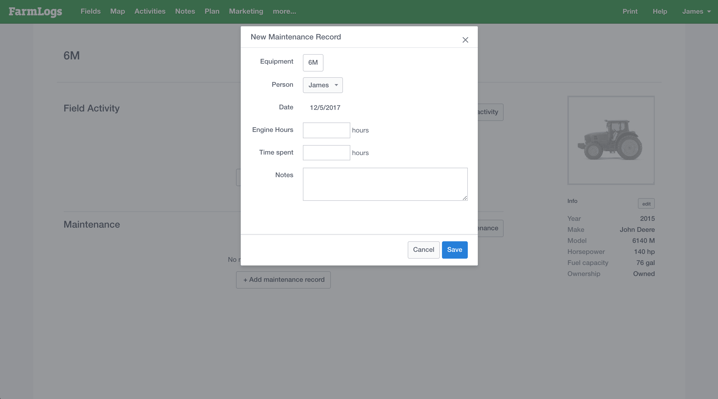 FarmLogs Equipment feature (included in a Complete plan) allows you to track equipment usage, maintenance, and more.
Make sure to:
Inspect all parts of your machinery, especially moving parts.

Clean your equipment removing all crop residue and being sure to keep water away from sealed bearing.

After drying, lubricate all moving parts and treat any corrosion with grease. Check engine hours and perform fluid changes if necessary.

Inspect belts and tires for wear and replace if needed. Taking the time now, will help save time during the growing season!
5. Educate yourself
Continue your education. Stay up-to-date on the latest technology, tools, and practices by attending educational seminars, workshops, and events. Check out meetings hosted by your local retailers, agronomists, and grain elevators. These meetings can help you as you develop your 2018 cropping plan and budget.
Oftentimes, these events feature speakers that are industry experts and professionals that bring a fresh perspective to your industry. You can learn about new products and practices you can try and you may even receive a discount on prices if you attend or book your product through the meeting!
Also be sure to check with your local extension agent about workshops and seminars that are hosted by your state universities and extension personnel. These meetings often introduce new, relevant agronomic research that could help increase your bottom line.