Evaluating last year's imagery can help you fix repeating issues, reduce the risk of yield loss, and get familiar with what you might be able to detect this season. These five problems detected with satellite and aerial imagery can be used as a guide for what to look for in your farm's imagery this season.
Before we look at those examples, let's look at the difference between NDVI and true color imagery
NDVI imagery is a helpful tool in identifying stressed areas of your fields, but sometimes cloud coverage can skew what you're seeing. With true color images, you can confirm if what you're seeing in your NDVI image is actually representative of what's happening in your fields.
| | |
| --- | --- |
| | |
| top: NVDI satellite image bottom: true color satellite image | true color aerial image |
The above NDVI satellite image image (left) shows a field with nutrient leaching indicated by the red areas. The true color image (middle) shows what this issue actually looks like in the field, and confirms what the NVDI image shows.

In the true color aerial image (right) of a different field, the resolution is high enough to detect cows grazing in a field.
1. Fertility – Nutrient Leaching
| | |
| --- | --- |
| | |
| NVDI aerial image | NVDI satellite image |
The images above show a field that has experienced nutrient leaching due to poor tiling and heavy rains. The red, orange, and yellow in the image indicate stressed zones of the field where the crop may be experiencing nutrient deficiency.


2. Disease – Verticillium Wilt
| | |
| --- | --- |
| | |
| NVDI aerial image | NVDI satellite image |
These images show a field with crop damage due to Verticillium wilt. The red in the aerial image on the left, and the lighter green in the satellite image on the right, indicate areas of poor growth.


3. Pests – Aphids
| | |
| --- | --- |
| | |
| NVDI aerial image | NDVI satellite image |
These images show a field with crop damage due to an aphid infestation. In the aerial image, the red areas indicate where the aphids are causing damage in the field. The light green areas in the satellite image from 2 weeks later show the same pattern of crop damage.
4. Crop Damage – Hail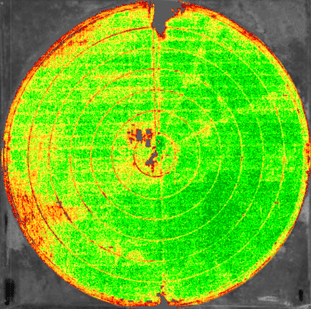 NDVI aerial image
This aerial image shows a field with crop damage from hail. The red, orange, and yellow areas indicate where the damage occurred, with red indicating the areas with the worst damage.
5. Irrigation – Center Pivot Failure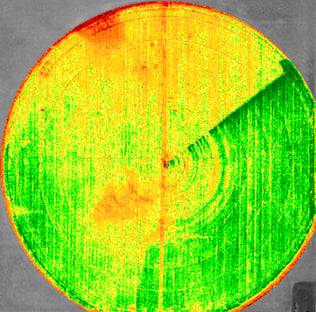 NVDI aerial image
This image shows a field that experienced issues from plugged nozzles on a center pivot. The orange and yellow streaking on the right (coming from the center pivot) indicate areas of the field where there is less crop growth.


Images courtesy of TerrAvion
---

Have examples of what you've discovered with your FarmLogs imagery?
We'd love to see them! Share your example on social media and tag us in the post!